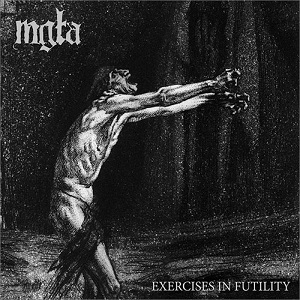 A tavalyi évben akkorát szólt a lengyel Mgła új lemeze, hogy lehetetlen volt mellette elmenni, szinte minden, a témával foglalkozó webzine ódákat zengett az Exercises in Futility-ről. A 2000 óta működő zenekar neve számomra is ismerős volt, nagyjából pozitív megítélése volt a korábbi lemezeiknek is, de egyik sem ütött akkorát, mint a tavaly megjelent album.
Elég csak annyival érzékeltetni a sikerességet, hogy a pár héttel ezelőtti budapesti fellépésükre elővételben elkapkodták a jegyeket, ami még akkor is döbbenetes tény, ha hozzávesszük, hogy nem a Papp László Sportarénában léptek fel, hanem csak a Dürerben.
De a turné többi állomásán is zajos sikert aratnak, köszönhetően az erős daloknak meg a markáns színpadi kiállásnak, legyen szó Oakland-ről vagy München-ről.
Emellett pl. a Cult Nation olvasói szavazásán is második helyen végzett a lemez, ami nem kis fegyvertény.
Én sok recenziót elolvastam az albumról, nem is emlékszem negatív kritikára, egyedül az Autodafé facebook-oldalán találkoztam némi fanyalgással, jelesül hogy ez egyszerű popzene, semmi több. Végülis van benne valami, de ha a Mgła popzene, akkor a Storm of the Light's Bane is az.
Na de térjünk a lényegre: az Exercises in Futility hat darab, római számmal jelzett nihilista himnuszt tartalmaz, emlékezetes, szinte dúdolható témákkal, kíméletlen dalszövegekkel, sűrű, többrétegű hangzással.
A többrétegű hangzást úgy értem, hogy a kiváló vezérmotívumok alatt végig hallani, érezni lehet egy mélységesen mély, sötét, kásás masszát, ami a dallamos témák rejtekében megbújva elborítja, megbénítja, gúzsba köti a hallgatót.
Ez az igazi titka a lemeznek: az első pár hallgatás után az ember fülébe másznak a gyilkos témák, és csak utána kezdi felfedezni a mélységet, az örvénylő sötét anyagot, de már késő, addigra a rabjává vált, nincs menekvés. Pont úgy, ahogy az életünkből sincs menekvés, bármennyire is szűkös és kényelmetlen időnként, ez jutott.
Nihilizmus még sosem volt ennyire vonzó és félelmetes egyszerre.
És akkor még ejtsünk pár szót a tökéletesen eltalált dalszövegekről: vigasztalhatatlan lemondás és nihilizmus árad a sorokból, de sosem esik a szövegíró a nyafogás csapdájába, egyfajta férfias büszkeséggel sorolja az érveit az emberi élet értelmetlensége és hiábavalósága mellett.
As if everything was to be made right one day
Dreams don't come true for people like us
As if the gods were bored with peace in our hearts
And their fingers are itchy
Nagyon sokszor meghallgattam már ezt a lemezt, és továbbra sem találok hibát rajta. Tényleg meglepő, de 2015 egyik csúcslemezével van dolgunk. Aki szereti a black metal nihilista vonulatát, de viszolyog a depressive/suicidal black metal síránkozásától, annak melegen ajánlott.