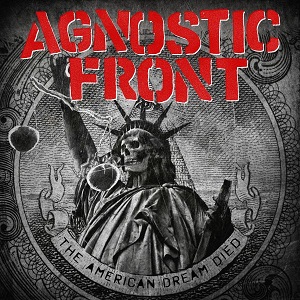 A tőzsgyökeres new york-i Agnostic Front nem egy fiatal zenekar, 1980 óta vannak a pályán, egy 5 éves szünettől eltekintve folyamatosan.
Gondolom sokaknak ismerős a nevük, ami nem meglepő, hiszen ez alatt a 35 év alatt igazi kikezdhetetlen alapkövekké váltak a hardcore műfajon belül. Szinte minden, azóta megalapított hardcore bandára hatással voltak, ha ők nincsenek, akkor nincs ma Hatebreed, nincs ma Terror, és nem ismerné a világ metalkedvelő része az NYHC, azaz a New York Hardcore stílust.
Ezek a lassan hatodik x-et taposó arcok a hitelesség mintapéldái, bár ezt a hardcore veteránokat illetően megszokhattuk. Színes életútjukban szerepelt minden, börtön, drogok, alkohol, megjárták az élet sűrűjét már fiatalon, ami nem olyan olyan meglepő, ismerve a 80-as évek New York-ját. 
Viszont ők ebből a rengeteg negatív élményből a jó hardcore-oshoz méltóan pozitív dolgokat hoztak létre (PMA, azaz positive mental attitude, ugyebár), és lettek világsztárok a szcénán belül. Vagyis pontosabban szólva ők maguk hozták létre a szcénát, a Cro-Mags-szal, a Murpy's Law-val, a Sick of it All-lal meg a többi, azóta már legendássá vált bandával karöltve.
A legújabb lemezük a most megjelent The American Dream died, ami jól illeszkedik az eddigi lemezeik sorába. Akik szeretik a hardcore punk zenét, nem fognak csalódni, Vinnie Stigma-ék azt teszik, amihez értenek, semmi túlvállalás, csak kőegyszerű, lendületes nóták. Tényleg nincs túljátszva semmi, 27 perc alatt le is rendezik a dolgokat, dehát ebből ennyi pont elég is.
Mindenképpen kiemelném az Old New York című dalt, ami nálam egy csapásra felkerült a Best of HC lejátszási listámra (olyan dalok mellé, mint az Always the hard Way a Terror-tól...), akkora nagy hardcore himnusz. Rögtön nyitásként meghallgathatjuk Travis Bickle szónoklatának egy részletét a Taxisofőrből (All the animals come out at night - whores, skunk pussies, buggers, queens, fairies, dopers, junkies, sick, venal. Someday a real rain will come and wash all this scum off the streets.), majd egy igazi ódát hallgathatunk meg a régi, 80-as évekbeli New York-hoz, amikor még minden nap küzdelem volt a túlélésért, és Manhattan-ben nem a brókerek voltak az urak, hanem az alvilág, meg a drogosok. Nem kis nosztalgiával viszonyulnak a srácok a régmúlthoz, de tagadhatatlan, hogy lehetett valami vadregényes abban, ahogy annak idején kinézett New York.
Rövidre zárva, a Sick of it All tavalyi kiváló lemeze után itt egy másik, legendás NYHC banda új lemeze, amit minden, hardcore rajongónak érdemes meghallgatnia rendszeresen, mondjuk sportolás vagy meccsre indulás előtt, mert hiába idősödik a zenekar, az energia, a frissesség még a régi. És júliusban irány a Rockmaraton, mert ott lépnek fel a fiúk!
Végezetül íme a teljes lemez, jó zenehallgatást.